Behind the Scenes
King Munsa´s Cookery Book (2011)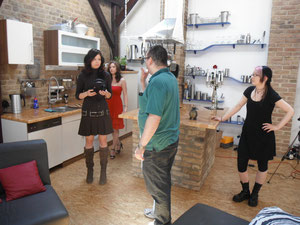 Last day of shooting King Munsa´s Cookery-
Book in Berlin Spandau.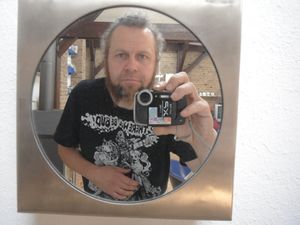 Co-Producer Joerg Moehring and his new
Fuji.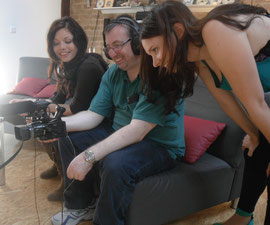 Watching the first scenes on the Spandau set.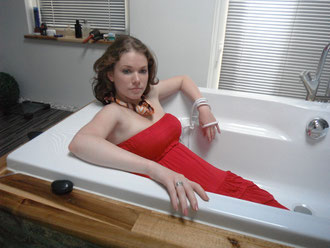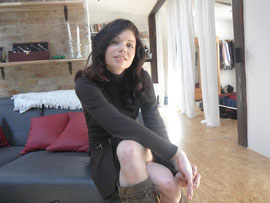 Shakespeare Strikes Again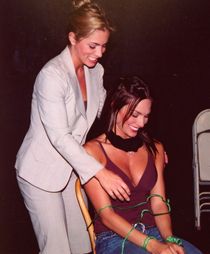 This is a still from Shakespeare Strikes Again
starring Rachel McKenzie and Amanda Carrier.
Shot in North Hollywood.
Rachel and Amanda clowing around while some
stills for the dvd cover are shot with a great Nikon
35 mm.
The 7 Nightmares Girl 1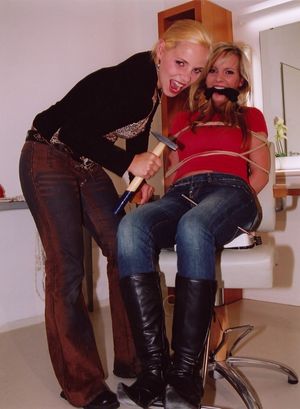 Carolin and Wenke on the set of
The 7 Nightmares Girl, episode 1,#
which was shot at the Tempelhof
Studios in Berlin, Germany.
Designed as a 90 minute feature to
be shot in Germany, the story deve-
loped in a whole series shot in
Germany, US, Canada, Austria
and other countries.
Unhappy End! 27: The Halloweenies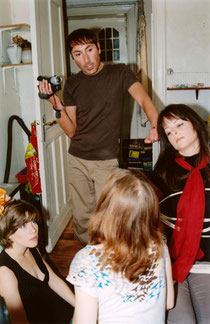 Vonny who shot with the mini DV Sony some
additional outtakes material, Sandra, Katja
and Maja discussing a scene in the
kitchen while shooting episode 27 of the
Unhappy End! series The Halloweenies .
I always wanted to do a Remake of  Die
Schulfeindin and to see how this would
work we shot this similar story on digi
HDV. All three actresses were terrific.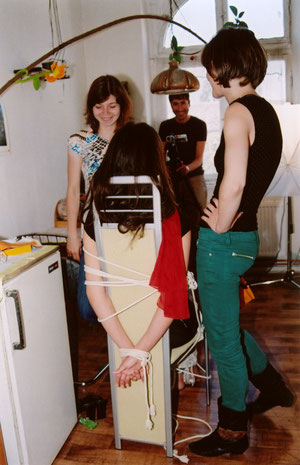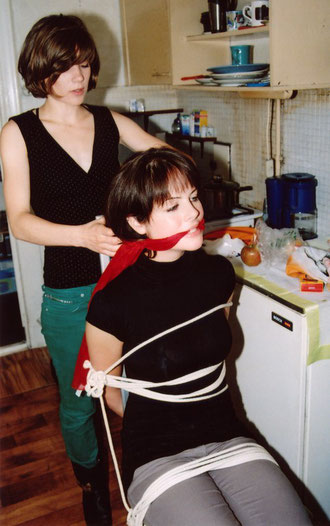 Sandra Lüdke again played a very spooky
bad girl who is mad and dangerous.
Maja Loom played for the
second time Sandra´s victim who
is helpless bound and gagged in
this scene.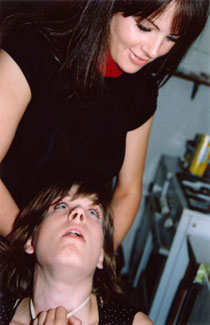 Maja and Sandra rehearsing the scene
when Maja manages to untie herself
and attacks and almost strangles Sandra.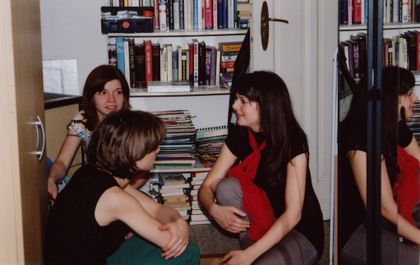 The Moonlight Orchids (2010)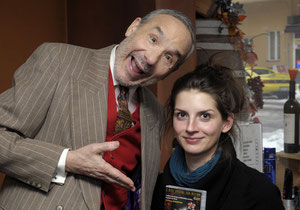 Lloyd Kaufman and Saskia, who does make-up
and SFX in most of our recent productions.
The 7 Nightmares Girl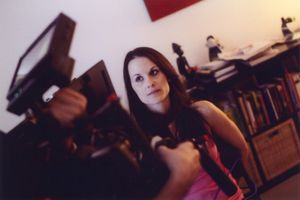 This scene is actually shot in Vancouver for
episode 6 of The 7 Nightmares Girl series
produced by Anja Meyer.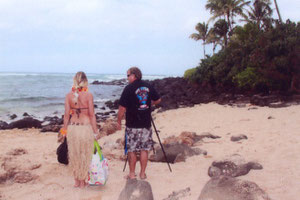 The 7 Nightmares Girl
Episode 6: Aloha Satan
Anja Meyer and the DP are location scouting
on this lovely Hawaiian beach.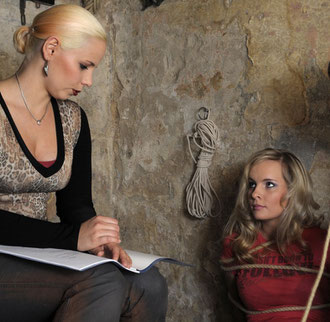 Carolin and Wenke rehearsing another scene
of episode 2.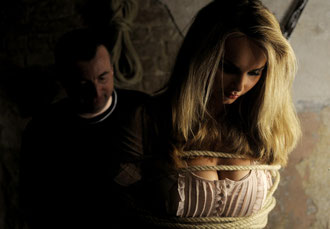 Michael Huck certainly loves directing T7NG. Here very brave model Ciara is tied up for another horrible dungeon scene in episode 4 of The 7 Nightmares Girl series.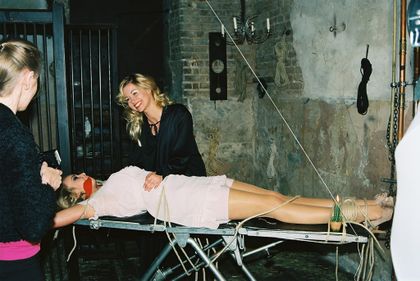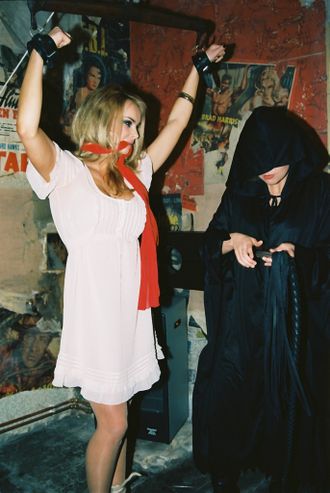 Anja and Ciara rehearse the whipping sequence in episode 4.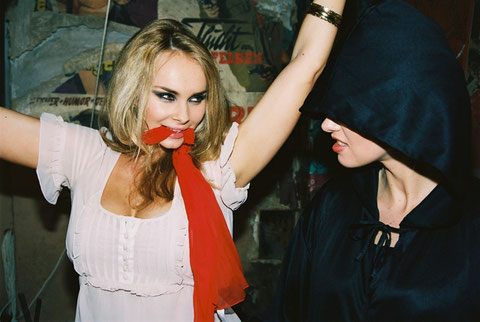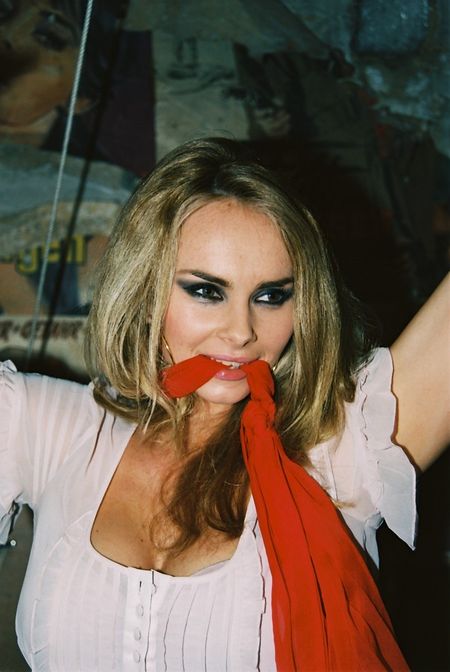 Ultra-Professional Model Ciara manages still to look relaxed and beautiful and having fun during shooting episode 4 after having been bound and gagged for hours.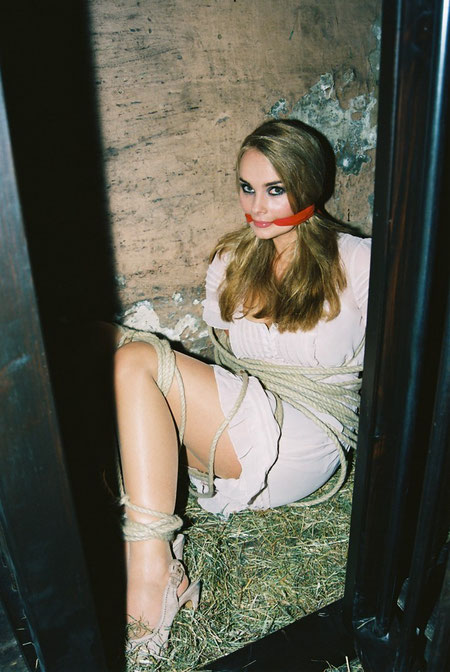 A shot showing the witch Samantha all trussed up and with a tight gag in her mouth in that horrible dungeon, illustrating quite well a real witch still is dertemined even under such circumstances to look cool and beautiful.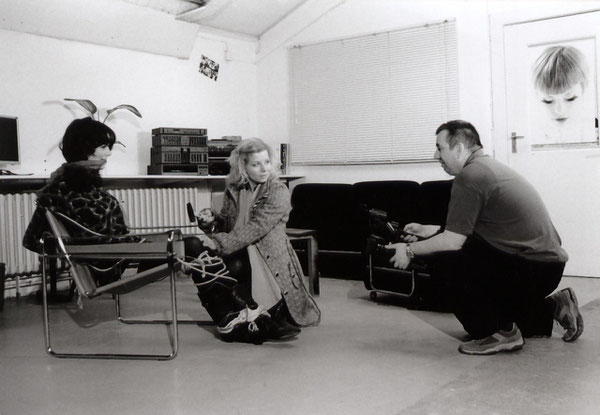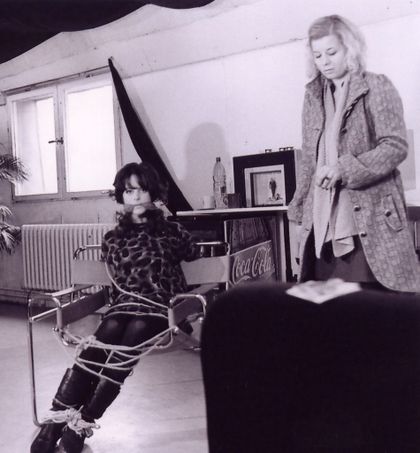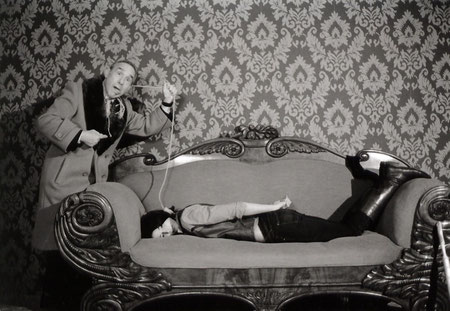 Lloyd Kaufman and Micaela Schäfer on the set of The 7 Nightmares Girl 2